LapCabby Boost+ for 16 Devices
Charge & Sync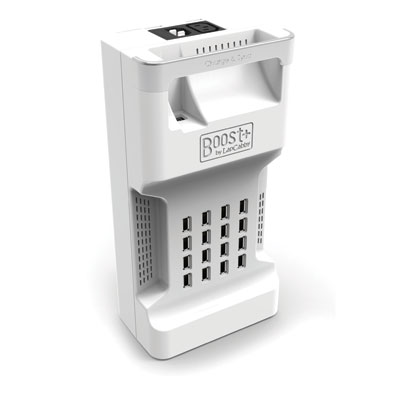 Stock:
Temporarily Unavailable
This item is temporarily unavailable due to supply issues caused by the COVID-19 virus.
We do not yet have a confirmed date it will be back in stock.
Sorry, this item is currently unavailable.
Please use the menu or search for alternatives
Product Information
(links open in new tab)
Boost+ are our portable charging and synchronisation units.
Using Cambrionix technology Boost+ Charge & Sync can connect up to 16 mobile devices without having to pack them away, making it great for quick power pick-me-ups.
You can even plug in lots of different devices at once – intelligent charging will ensure every device gets just the right amount of power it needs. Any device with a USB charging cable is compatible.
Wherever you are, just plug it into the mains and you're ready to go.
It's also an ideal solution to keeping your tablets synchronised and up to date if you already have one of our charging trolleys.