Value Battery Charger
Includes 4x AA Batteries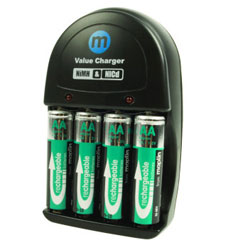 PrimaryICT No:

PR5685
Manufacturer Code:

VALUECHARGER
Stock:
50+ In Stock - Delivery usually 1-2 days
Product Information
Value Charger, complete wiht 4x 1300mAh AA high-capacity batteries
Recharges 2x or 4x AA or AAA size batteries
Compatible with NiMH, NiCd and Hybrid batteries
Can also charge 1x or 2x 9V size batteries (not at the same time as other batteries)
LED charge indicators
Automatic charging current selection for size AA and AAA batteries
Please Note
This unit features red LED indicator lights to show when your batteries are charging.
However, this charger does not have an automatic cut-off feature (as seen on more expensive models) when charging is complete - so these will remain on until the unit is switched off.
See below for charge-time guidelines.
Please Note: Value brand may vary.
What's in the Box?
1x Battery Charger
4x 1300mAh Rechargeable Batteries
Detailed Specifications
Charge-Time Guidelines
| | | |
| --- | --- | --- |
| Size: | Capacity: | Charge Time: |
| AA | 600-800mAh | 5-6 hours |
| | 1100-1300mAh | 9-11 hours |
| | 1400-1600mAh | 11-13 hours |
| | 1800-2100mAh | 15-18 hours |
| | 2200-2500mAh | 19-21 hours |
| AAA | 180-240mAh | 4-5 hours |
| | 500-650mAh | 11-15 hours |
| | 700-900mAh | 16-21 hours |
| 9V | 110-120mAh | 9-10 hours |
| | 150-160mAh | 13-14 hours |
| | 200mAh | 17 hours |
Charge times will vary depending on the brand, capacity and condition of battery being charged