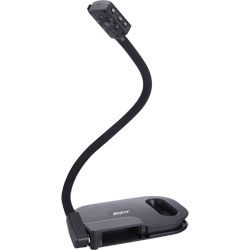 Stock:
Temporarily Unavailable
This item is temporarily unavailable due to supply issues caused by the COVID-19 virus.
We do not yet have a confirmed date it will be back in stock.
Sorry, this item is currently unavailable.
Please use the menu or search for alternatives
Product Information
(links open in new tab)
The AVerVision U50 USB visualiser features exceptional portability and convenience due to the ability to run solely on power from the computer with no additional power cables required.
Key Features
5-megapixel camera sensor
30fps frame rate
Auto focus
HD1080p output resolution
A3 shooting area
Easily integrate the Aver AverVision U50 with an interactive whiteboard via the AVerVision Flash Plug-in, or use A+ Plug-in for PowerPoint to capture high-quality images, record live video and audio.
Hassle-free Live HD Imaging
Show vivid, blur-free 30fps live video at HD1080p that will dazzle any audience, while utilising the visualiser's wide shooting are and long flexible arm to easily capture complete images of documents & objects larger than an A4 sheet of paper.
Compact and Portable Design
Easily move the visualiser from classroom to classroom thanks to a lightweight design, a flexible arm and camera head that effortlessly slip into the visualiser's frame complete with a built-in handle. At Primary ICT we believe this is a handy feature to have in a school that enables you to share a visualiser and use it in many classrooms.
AVer Visualiser Software
Integrate live visualiser images seamlessly into existing teaching material, while maintaining easy access to visualiser functions, like annotation and recording.
Stream live video from a second visualiser, an AVer WirelessCam or a webcam over the video from your visualiser in picture-in-picture mode.
Create your own media library full of recorded videos and captured images, then compare the saved images side-by-side with live images from a visualiser, AVer WirelessCam and/or webcam. View and adjust live visualiser images directly via an interactive whiteboard.