SMART Replacement FRU SC12 Master Controller
for 600 Series SMART Boards
Special Offer Price!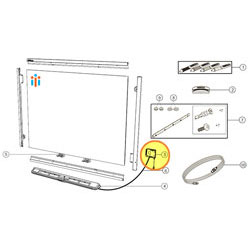 PrimaryICT No:

PR4198
Manufacturer Code:

FRU-SC12A-SB600
Stock:
10+ In Stock - Delivery usually 1-2 days

+ more available
Free delivery if you buy 2
Product Information
SMART SB600 Series Master Controller - FRU, SC12
NOTE: FRU-SC9 has been discontinued and this is now the replacement controller for all single touch 600 series SMART Boards except those installed with a Unifi 35 projector.
This item is compatible with the following SMART Boards:
SMART Board SB640
SMART Board SB660
SMART Board SB680
SMART Board SB685
SMART Board SB690
All of our SMART products are Genuine, sourced directly from SMART Technologies.
Ordering Information
!
Delivery Restrictions - Home Customers
Sorry, but we are unable to accept orders for this item from home customers, or for delivery to a home address.
Manufacturer Warranty
Full details (including terms) of manufacturer warranty are provided with the product or on manufacturer website.
Most manufacturers like to provide direct after-sales support should any issues arise.
For warranty/support with this product, please contact SMART directly on 0800 014 8908 or visit support.smarttech.com