Wooden Octoplay Set
Set of 20 Pieces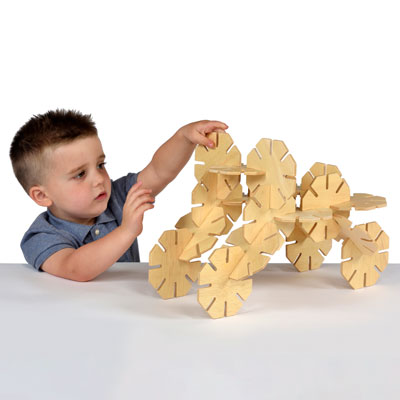 Stock:
Temporarily Unavailable
This item is temporarily unavailable due to supply issues caused by the COVID-19 virus.
We do not yet have a confirmed date it will be back in stock.
Sorry, this item is currently unavailable.
Please use the menu or search for alternatives
Product Information
Create a dog, man, tower or many other models with this 20 piece set. Pieces measure 12 x 12cm and are 6mm thick. Made from high quality plywood. Colour instruction guide is included.
Following the popularity of plastic Octoplay, we have now developed a wooden version called Wooden Octoplay made from high quality plywood.
Wooden Octoplay contains chunky wooden pieces designed for small hands.
This set contains:
20x Octoplay Flats
Colour instruction guide
All the pieces measure 12 x 12 cm (4.72 x 4.72 in), are 6 mm (0.24 in) thick, and slot together with ease. A range of models can be made with these sets, and the design possibilities are endless. We have made Wooden Octoplay in both natural and coloured plywood.
Weight (kg): 1.013
L x W x H (cm): 13.5 x 13.5 x 13.5
Recommended for ages: 3 years +