Polydron Midi Tub
Set of 80 Pieces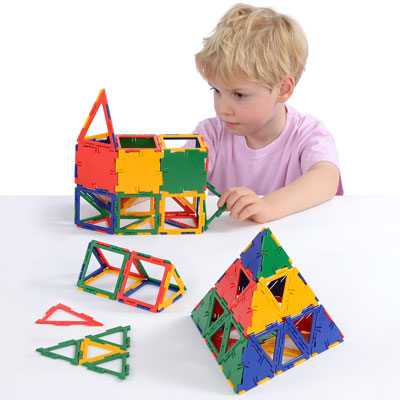 Stock:
Product Discontinued
Sorry, this item is currently unavailable.
Please use the menu or search for alternatives
Product Information
(links open in new tab)
Experiment with this great starter set.
Builds over 40 models.
A versatile well designed medium sized set, containing Polydron and Frameworks.
These Polydron sets have been developed by listening and reacting to customers needs and remain a very successful part of the portfolio, being a great way to introduce young children to the world of construction and eventually geometry.
Each pack contains a work sheet which contains images of examples to follow rather than words. These are excellent value kits that will bring quick returns and last for many years.
This set contains:
12x Frameworks Right Angle Triangles
13x Frameworks Squares
24x Frameworks Equilateral Triangles
6x Frameworks Isosceles Triangles
5x Polydron Squares
20x Polydron Equilateral Triangles
Leaflet Worksheet
Supplied in a recyclable cardboard box
Polydron is the original and still superior construction shape, recognised in many countries as the world's leading resource for teaching shape and space; two and three-dimensional geometry, and design and technology. It is used as a major aid for developing spatial awareness and is easily used by children, giving excellent play value, although it is versatile enough to be utilised for complex mathematical theories.
Each square piece measures 7.5 x 7.5cm
The unique joints readily snap together giving a superior hinge. This design is critical to forming two and three-dimensional geometric shapes.
Weight (kg): 0.6
L x W x H (cm): 22 x 22 x 15
Recommended for Ages: 4 years +