Polydron School Set
Set of 806 Pieces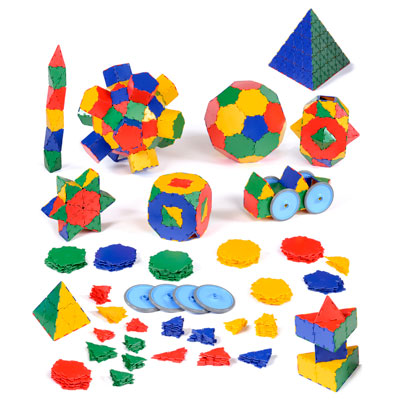 Stock:
Product Discontinued
Product Information
(links open in new tab)
Bring geometry to life with this huge set of Polydron! This set is the most economical way to buy enough Polydron for several classrooms to use!
The set contains a massive 806 pieces including:
120x Squares
300x Equilateral Triangles
72x Pentagons
60x Hexagons
80x Right Angle Triangles
60x Isosceles Triangles
50x Large Equilateral Triangles
30x Rectangles
10x Octagons
8x Polydron wheels with axle mounts and stubs
Exploring Polydron activity booklet
Gratnells Storage Tray
Polydron is the original and still superior construction shape, recognised in many countries as the world's leading resource for teaching shape and space; two and three-dimensional geometry, and design and technology. It is used as a major aid for developing spatial awareness and is easily used by children, giving excellent play value, although it is versatile enough to be utilised for complex mathematical theories.
Each square piece measures 7.5 x 7.5cm
The unique joints readily snap together giving a superior hinge. This design is critical to forming two and three-dimensional geometric shapes.
Weight (kg): 14.16
L x W x H (cm): 48 x 36 x 32
Recommended for ages: 6 years +