TTS Rechargeable Bee-Bot Docking Station (including Power Adaptor)
for 6x Rechargeable Bee-Bots/Blue-Bots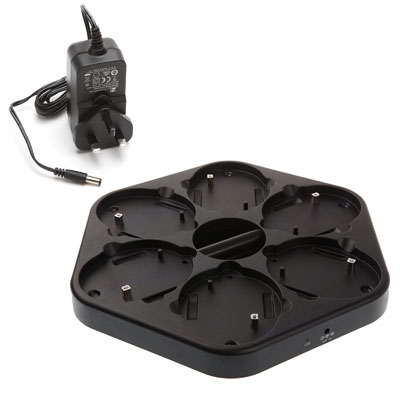 Stock:
Product Discontinued
Sorry, this item is currently unavailable.
Please use the menu or search for alternatives
Product Information
A mains rechargeable docking station for up to six rechargeable Bee-Bots or Blue-Bots.
The docking station acts as both a charger for these new Rechargeable Bee-Bots and safe storage for them. No additional batteries required!
This docking station is not only easy to carry around your setting, but is an excellent storage device for a class set of Bee-Bots, it can be wall mounted with six Bee-Bots in situ.
You will be able to charge your Bee-Bot(s) within half a day for approximately 4 hours of normal use.
Please note: This docking station is only compatible with rechargeable Bee-Bots and Blue-Bots; not the original Bee-Bots that use AA batteries.
Recommended for ages: 5 - 11 years