TTS Rechargeable Bee-Bot Docking Station (including Power Adaptor)
for 6x Rechargeable Bee-Bots/Blue-Bots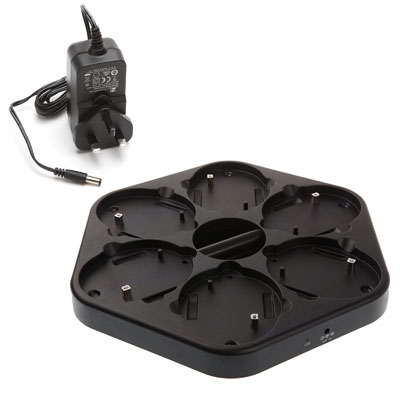 Stock:
Hurry! Last 4 Available, Delivery 1-2 days
Mains powered rechargeable docking station

Provides safe storage/charging for upto 6 Blue-Bots or Bee-Bots

Approximately 4 hours of normal use with from about half a day of charging
Product Information
A mains rechargeable docking station for up to six rechargeable Bee-Bots or Blue-Bots.
The docking station acts as both a charger for these new Rechargeable Bee-Bots and safe storage for them. No additional batteries required!
This docking station is not only easy to carry around your setting, but is an excellent storage device for a class set of Bee-Bots, it can be wall mounted with six Bee-Bots in situ.
You will be able to charge your Bee-Bot(s) within half a day for approximately 4 hours of normal use.
Please note: This docking station is only compatible with rechargeable Bee-Bots and Blue-Bots; not the original Bee-Bots that use AA batteries.
Recommended for ages: 5 - 11 years
What's in the Box?
1x Bee-Bot Docking/Charging Station
1x Mains Power Adaptor
Manufacturer Warranty
Full details (including terms) of manufacturer warranty are provided with the product or on manufacturer website.
For warranty requests regarding this product, please contact us directly on 01227 769400
You can also e-mail office@primaryict.co.uk (please include your invoice number)