SMART Document Camera 330
Visualiser
Manufacturer Code: SDC-330
Stock:
Product Discontinued
Product Information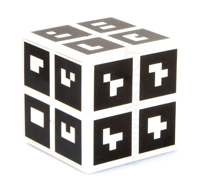 FREE Mixed Reality Cube included with every SMART SDC-330 Visualiser
Mixed Reality Tools takes this experience to a new level by providing teachers and students with a new way to engage with digital 3D content. Mixed Reality Tools provides an intuitive way for students and teachers to explore digital content with the document camera. This technology is integrated with SMART Notebook software.
3D models are available from the Gallery Sampler and the SMART Exchange™ website.
Discover a convenient way to display and explore images of objects without losing the momentum of your lesson. The SMART Document Camera integrates seamlessly with SMART Notebook™ collaborative learning software, enabling you to capture images and instantly add them to your SMART Notebook pages. You can also write over images in digital ink or save them in the SMART Notebook software Gallery, saving you time while keeping students engaged in learning.
Save time and minimize distractions
With one touch, you can access and operate the SMART Document Camera directly from SMART Notebook software. A button on the document camera also lets you instantly capture images to SMART Notebook, so you can display physical objects without needing to open new files or applications.
Engage students with interactive lessons
With the SMART Document Camera, you can keep students engaged by easily creating interactive learning opportunities in your classroom. Spontaneously display objects, such
as pages from a book, or show students the results of science experiments in real time.
All the images you capture can be saved to the Gallery and used for further review or
new lessons.
Effortlessly display images in vivid detail
By combining 5.2x optical and 8.0x digital zoom, the SMART Document Camera displays images that are sharp and vivid. Quickly direct student learning by zooming in to show even the smallest details, including slides viewed from your classroom microscope. You can also automatically focus images and adjust the document camera's brightness for varying light conditions.
Quickly connect other technology products
The SMART Document Camera conveniently connects to other classroom technology products, including projectors, monitors and flat-panel displays. It also integrates with other SMART products such as the SMART Board™ interactive whiteboard, SMART Slate™ wireless slate and SMART Podium™ interactive pen display.