Bee-Bot Lesson Activities 2
Site Licence Download
Manufacturer Code: EL00056
Stock:
Product Discontinued
Sorry, this item is currently unavailable.
Please use the menu or search for alternatives
Product Information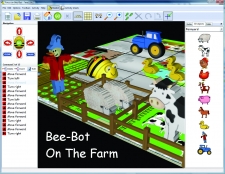 Focus on Bee-Bot: Lesson Activities 2.3 is a cross-curricular interactive program based on the popular Bee-Bot programmable floor robot.The resource is an excellent starting point for teaching control, directional language and programming to young children. It is suitable for both individual study and whole class whiteboard teaching.
New Features include:
Shell Designer Module
On-screen Mat Creator
Bee-Bot Jacket Printer
Audio Playback of Activity Instructions
Bee-Bot Lesson Activities 2 is based on eight well-known TTS cross-curricular activity mats including: Farmyard, Seaside, Fairy Tale, Katie Morag, Community, World Map, UK Map, Bee-Bot's Home.
The software includes a range of activities for eight Bee-Bot cross-curricular activity mats. Challenges are solved by programming sequences of moves on-screen with feed-back given when tasks have been completed. Users can create their own on-screen activity mats and build and save 3D Bee-Bot worlds. Inexperienced readers can listen to recordings of the activity instructions.
Users can now personalise the program by creating fabulous Bee-Bot shells.This encourages the development of image manipulation skills and can be linked to practical activities, such as printing and cutting out the shells for use as Bee-Bot jackets.
Mats featured in Bee-Bot Lesson Activities 2
Farmyard
Seaside
Fairy Tale
Katie Morag
Community
World Map
UK Map
Bee-Bot's Home
Key Stage 1 Computing Scheme of Work Coverage
The BETT award winning Bee-Bot Lesson Activity programs will enable you to cover four of the five subject content areas at Key Stage 1 level:
Understand what algorithms are; how they are implemented as programs on digital devices; and that programs execute by following precise and unambiguous instructions.
Create and debug simple programs.
Use logical reasoning to predict the behaviour of simple programs.
Use technology purposefully to create, organise, store, manipulate and retrieve digital content.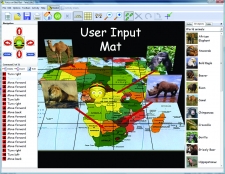 Create Your Own Bee-Bot Mats and On-screen Activities
Input photographs and images and use them to create your own on-screen mats and activities.
Compatible on PCs running Windows XP or later and iMacs running a PC emulator. Please note this software will not work on a Mac which is not running Windows