TTS Wall Mounted Rainbow Storage Pockets 120cm
Special Offer Price!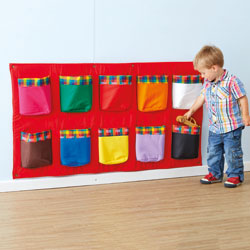 PrimaryICT No:

PR7645
Manufacturer Code:

EY06706
Stock:
2 In Stock - Delivery usually 1-2 days

+ more available
SRP: £49.95 -
save £5.00 (10%)

Product Information
A vibrant, appealing yet practical wall storage solution.
Children can post or retrieve items from the 10 different coloured pockets.
Ideal for fostering independence skills as the children can self access the pockets contents.
It could be used as a colour matching activity.
Made from soft cotton fabric.
Machine washable.
For ages 10mths+
Size: H65 x W120cm.
Manufacturer Warranty
Full details (including terms) of manufacturer warranty are provided with the product or on manufacturer website.
For warranty requests regarding this product, please contact Primary ICT directly on 01227 769400
You can also e-mail us at support@primaryict.co.uk (please include your invoice number)