TTS Talking Photo Album A5 Size
Pack of 5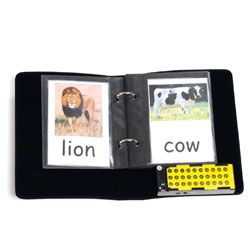 PrimaryICT No:

PR5784
Manufacturer Code:

IPHOTO5
Stock:
1 Pack In Stock - Delivery usually 1-2 days

+ more available
...only £27.59 per unit
Product Information
Combine literacy and ICT with this Talking Photo Album. It supports speaking and listening on the new literacy framework especially focusing on photo sequences, presentations, hiding and revealing pictures and word recognition.
Record your stories, timetables or messages with our Talking Photo Album. Simply insert drawings or photographs into the plastic wallets and record up to a 10 second message on every page to support the image / text.
The A5 size provides excellent personal learning.
Each individual voice message can be played back at any time, simply with a push of a button.
30 recordable buttons
Record time on each button is 10 seconds
15 double sided recordable pages (holds 6 x 4" photos)
Requires 2 x AAA batteries (not included)
Size: A5
Manufacturer Warranty
Full details (including terms) of manufacturer warranty are provided with the product or on manufacturer website.
For warranty requests regarding this product, please contact Primary ICT directly on 01227 769400
You can also e-mail us at support@primaryict.co.uk (please include your invoice number)
Related Items...