TTS Robust Easi-Headphones
Pack of 15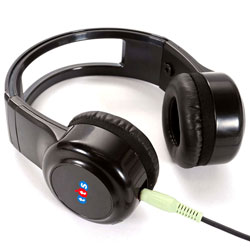 PrimaryICT No:

PR4614
Manufacturer Code:

EL00411
Stock:
8 Packs In Stock - Delivery usually 1-2 days

+ more available
SRP: £239.85 -
save £4.90 (2%)
...only £15.66 per unit
Product Information
Specifically designed for use in schools, we are pleased to be able to offer these unique robust headphones which can be used with any 3.5mm audio device, including: Tablets, Laptops, PCs, TTS Easi-Listener and the range of TTS Easi-Speak Microphones and Easi-Speak Pro Microphones.
The replaceable ear cushions have been designed to cover the whole ear to minimise outside noise and to increase comfort.
The quick release cable means that the cable can be replaced should it become damaged.
Robust design
Adjustable
Removable 3.5mm cable
Twistable headband
Replaceable ear cushions
Ideal for use in Classrooms, Activity Areas & ICT suites
The connection at the end of the cable is a 3.5mm jack plug.
Cable length: 1.2m
Manufacturer Warranty
Full details (including terms) of manufacturer warranty are provided with the product or on manufacturer website.
For warranty requests regarding this product, please contact Primary ICT directly on 01227 769400
You can also e-mail us at support@primaryict.co.uk (please include your invoice number)
Related Items...