TTS Rechargeable Bee-Bot Group Starter Bundle
6x Bee-Bots & Docking Station & 4x Mats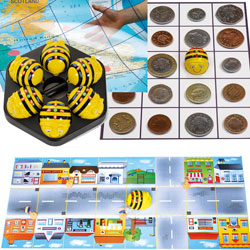 PrimaryICT No:

PR5364
Manufacturer Code:

EL00400
Stock:
10+ Bundles In Stock - Delivery usually 1-2 days

+ more available
SRP: £379.95 -
save £20.00 (5%)

Product Information
All the Bee-Bot kit you need to get your class going!
This pack features the new Rechargeable Bee-Bot.
The docking station acts as both a charger for these new Rechargeable Bee-Bots and safe storage for them. No additional batteries required!
Award winning programmable floor robot, the Bee-Bot's simple and child friendly layout is a perfect starting point for teaching control, directional language and programming to young children.
Pack includes:
This mat bundle is Bee-Bot and Blue-Bot Compatible!
All Bee-Bot mats can also be used with Blue-Bots and have a standard 15cm square size.
What's in the Box?
6x Rechargeable Bee-Bots (each with a USB Charging Lead)
4x Bee-Bot Activity Mats
Bee-Bot Docking/Charging Station
Mains Power Adaptor
Videos
Detailed Specifications
Rechargeable so no longer requires separate costly batteries
Central charging unit with carry handle and storage solution
Perfect for sequencing, programming and directional language
Key Features
Robust and small design
Clear and bright buttons
Memory of up to 40 steps
Clear and bright buttons
No confusing degrees to program
Sounds and flashing eyes confirm your instructions
Fantastic cross-curricular resources also available
Moves accurately in 15cm steps at a time and turns in 90°
Size (L) 13cm (W) 10cm (H) 7cm
Built-in rechargeable battery (non-user replaceable)
Manufacturer Warranty
Full details (including terms) of manufacturer warranty are provided with the product or on manufacturer website.
For warranty requests regarding this product, please contact Primary ICT directly on 01227 769400
You can also e-mail us at support@primaryict.co.uk (please include your invoice number)
Related Items...