TTS Mixed Bee-Bot & Blue-Bot Bundle
5x Bee-Bots, 1x Blue-Bot & Docking Station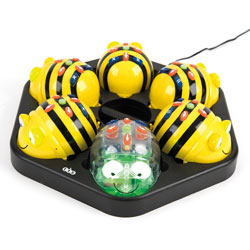 PrimaryICT No:

PR7856
Manufacturer Code:

IT01243
Stock:
In Stock - Delivery usually 1-2 days
SRP: £299.70 -
save £1.75 (1%)

Product Information
Why not test out a Blue-Bot with your next order of Bee-Bots.
Buy this set of Bee-Bots and get your 6th Bee-Bot upgraded to a Blue-bot! Set includes 5 Bee-Bots, 1 Blue-Bot and a docking station.
What's in the Box?
5x Rechargeable Bee-Bots (each with a USB Charging Lead)
1x Rechargeable Blue-Bot (each with a USB Charging Lead)
1x Bee-Bot Docking/Charging Station
1x Mains Power Adaptor
Manufacturer Warranty
Full details (including terms) of manufacturer warranty are provided with the product or on manufacturer website.
For warranty requests regarding this product, please contact Primary ICT directly on 01227 769400
You can also e-mail us at support@primaryict.co.uk (please include your invoice number)
Related Items...