TTS Easi-Speak MP3 Black Microphones (6 Pack)
& Docking Station Bundle
PrimaryICT No:

PR6956
Manufacturer Code:

ESB6-DOCK
Stock:
10+ Bundles In Stock - Delivery usually 1-2 days

+ more available

Product Information
Record voices, sounds or music on the move with our new MP3 Recorder. Attractively designed as a microphone children can be the roving reporter or singing star, without being attached to a PC.
Easi-Speak lets you record directly into the microphone
Playback remotely or download your files straight to your PC through the attached USB
128MB built in memory that can record up to 4 hours (high quality sound)
Downloaded files are WAV or MP3 format
Audacity Music Editing Software is provided as file on the Easi-Speak
Built in battery charged through USB.
Winner ERA Award 2009 - Innovation
Winner of a GOLD Practical Pre-School Award 2008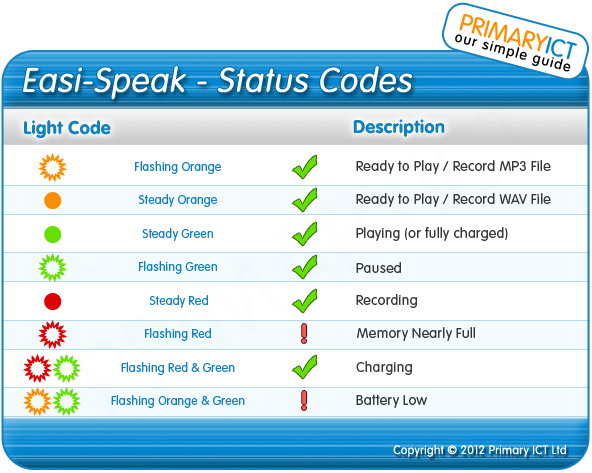 What's in the Box?
6x Easi-Speak Microphones (Black)
1x Docking Station
1x USB Charging Connector for Docking Station
1x Mains Power Charging Connector for Docking Station
6x USB Extension Leads (to connect the Easi-Speak Microphones to your computer)
6x Lanyard Straps
Each microphone comes pre-loaded with:
Audacity software for editing your sound files
A short audio introductory guide
Manufacturer Warranty
Full details (including terms) of manufacturer warranty are provided with the product or on manufacturer website.
For warranty requests regarding this product, please contact Primary ICT directly on 01227 769400
You can also e-mail us at support@primaryict.co.uk (please include your invoice number)
Related Items...