TTS Easi-Speak Microphone Docking Station
6 ports - Includes Mains Charger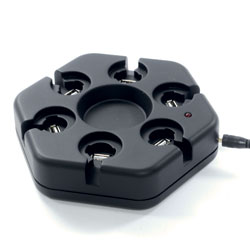 PrimaryICT No:

PR4200
Manufacturer Code:

EL00281
Stock:
30+ In Stock - Delivery usually 1-2 days
Product Information
Charge up to 6 Easi Speak or Easi Speak Pro microphones (or a mixture of both) at the same time from Mains power rather than your computer.
Please note: The microphones are not included but are shown to demonstrate compatibility only.
What's in the Box?
1x Docking Station
1x USB Charging Connector for Docking Station
1x Mains Power Charging Connector for Docking Station
User Instruction Manual
Manufacturer Warranty
Full details (including terms) of manufacturer warranty are provided with the product or on manufacturer website.
For warranty requests regarding this product, please contact Primary ICT directly on 01227 769400
You can also e-mail us at support@primaryict.co.uk (please include your invoice number)
Related Items...