TTS Circular Light Panel
60cm Diameter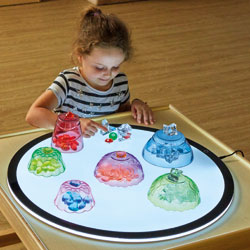 Product Information
A slimline circular light panel which can be used for a variety of cross curricular themes.
Explore colour mixing or just look at items more intensely. Accessories not included. Supplied with 4 metal clips for securing paper or acetate.
Approximate Diameter: 60cm
What's in the Box?
Light Panel
4 Metal Clips
12v Mains Adapter & Lead
Manufacturer Warranty
Full details (including terms) of manufacturer warranty are provided with the product or on manufacturer website.
For warranty requests regarding this product, please contact Primary ICT directly on 01227 769400
You can also e-mail us at support@primaryict.co.uk (please include your invoice number)
Related Items...