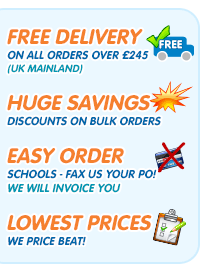 Product Highlight...
Popular Products...
STEM in Action Sunny Sandpit Exploration Project
Weather, Material Properties and Structures - by Learning Resources
PrimaryICT No:

PR8066
Manufacturer Code:

LSP2790-UK
Stock:
Delivery usually 1-2 weeks
Free delivery if you buy 2
Product Information
Ages 5 - 7
Heating and Cooling, Material Properties and Structures
In these project-based lessons, Sam loves to play in the sand but the sun makes it too hot and the rain makes it too wet! Students explore the science concepts of sunlight, shadow, and permeability as they help his sister Sophie to solve this problem. Using hands-on investigation, students learn about material properties, shapes, and construction as they engineer a sandpit covering that will block sunlight and water.
Designed for Key Stage 1, Year 1
Provides 100 - 150 minutes of STEM instruction over five 20- 30 minute lessons
Includes a lesson-by-lesson teacher guide, step-by-step student activities, homework tasks, and assessment tools, as well as the materials needed to undertake each activity
Meets a host of National Curriculum for England (2014) attainment targets in Year 1 Science, Design & Technology, and Maths
Involves students in the exciting world of practical STEM investigation through visual, hands-on experiments
Develops core mathematical skills in counting, reading, writing, and representing number
Introduces the use of engineering steps to solve real-world problems
What's in the Box?
Provides everything needed to start teaching, right out of the box:
lesson-by-lesson teacher guide cards
step-by-step activity cards
photocopiable activity sheets
1 homework activity
1 double-sided poster
200 straws
126 connectors
50 sheets of construction paper
25 sheets of sun-test paper
25 sticker sheets
6 materials kits
6 plastic trays
6 clear plastic sheets
6 eyedroppers
24 yellow plastic shapes
24 foil shapes
1 roll of masking tape
1 torch
1 handy Gratnells storage tray
Includes accompanying online resources, such as a helpful how-to video, STEM prompts, and a teamwork principles worksheet
Gratnells Jumbo tray measures 30cm H
Ordering Information
!
Delivery Restrictions - Home Customers
Sorry, but we are unable to accept orders for this item from home customers, or for delivery to a home address.