SMART Replacement Pens & Eraser for 800 Series Boards
Set of 2 Pens & 1 Eraser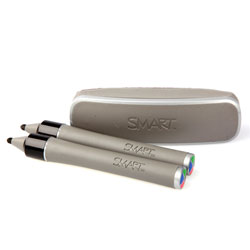 PrimaryICT No:

PR4221
Manufacturer Code:

RPEN-ER-SBX8
Stock:
50+ In Stock - Delivery usually 1-2 days
SRP: £45.00 -
save £5.05 (11%)
Other Buying Choices...
2 Pens
PR4222
£32.95
2 Pens + Eraser
PR4221
£39.95
Product Information
SMART Replacement Pens for SB800 Series - Set of 2 & Eraser Set
Genuine SMART replacements for the SB880 and SB885 boards.
Manufacturer Warranty
Full details (including terms) of manufacturer warranty are provided with the product or on manufacturer website.
Most manufacturers like to provide direct after-sales support should any issues arise.
For warranty/support with this product, please contact SMART directly on 0800 014 8908 or visit support.smarttech.com
Related Items...