AVerMedia AverVision SPB350 Visualiser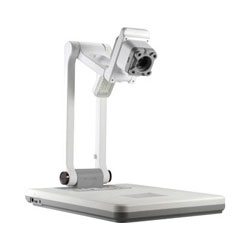 Manufacturer Code: SPB350
Stock:
Product Discontinued
Product Information
(links open in new tab)
The AVerVision SPB350 is an industry-first 5M pixel sensor platform visualizer with brilliant user-friendly design features, rapid Auto Focus, up to 30 frames per second, single or multiple image capture plus software applications for both PC & MAC. In addition to this, the powerful 160X magnification allows the smallest items to be shown in fine detail.
Furthermore, the 5 x 4 built-in Light box provides a versatile platform for all your presentation needs. The illumination from the base allows display of transparencies, slides, photo films or X-Rays.
With its 80 images memory and SD card slot the captured images can be stored, moved to other devices, shared and reviewed easily.
Seamlessly integrating with a number of other presentation devices widely used in education, including projectors, interactive whiteboards, video conferencing system or LCD screens, the SPB350 is aimed at becoming an integral part of any total classroom presentation solution.
All those first-class specifications are to make SPB350 and a must-have in the education world.