TTS Value Bean Bags
Set of 20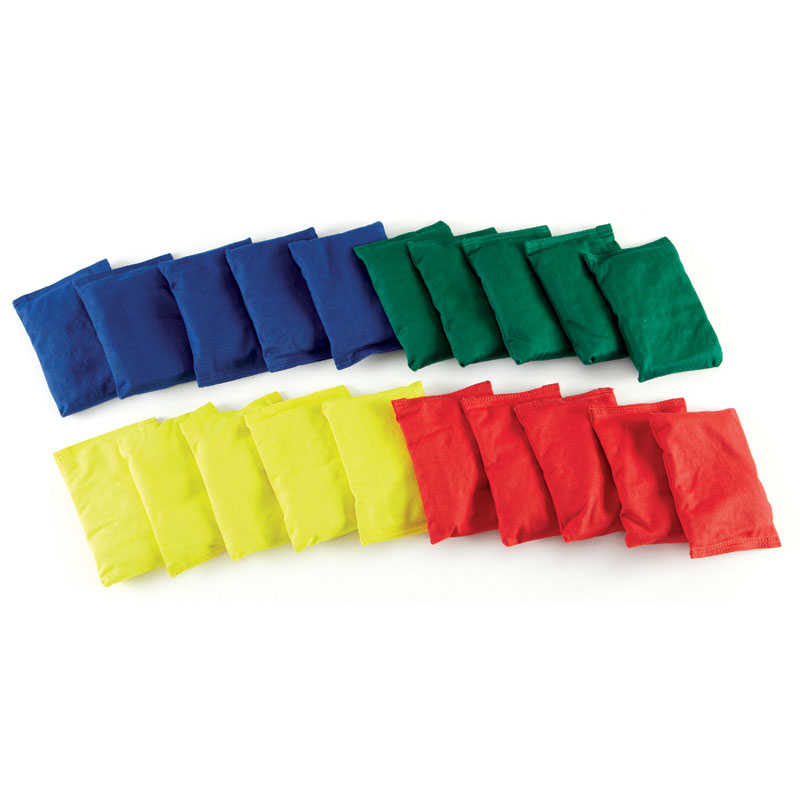 Manufacturer Code: PE00214
Stock:
Product Discontinued
Product Information
A set of 20 assorted colour beanbags. These soft, brightly coloured cotton beanbags are double stitched and are filled with plastic pellets.
The list of activities they can be used for are endless. Their soft touch and durability makes them perfect for throwing and catching activities and can be incorporated into a variety of target games and activities.
Sold in sets of 20
5 of each colour: Red, Yellow, Green, Blue
Size: L12.5 x W10cm
Here are a few bean bag games:
Balance:
Balance a beanbag on your head while walking along a balance beam, a length of rope, or along a line marked out on the ground.
If this is easy, make it more difficult by doing a heel-to-toe walk.
A more challenging activity is to walk around obstacles, or to touch an object on the floor along the way while keeping the beanbag on their heads.
Bean Bag Toss:
Start by tossing the bean bag above the head and catching in two hands.
Increase the challenge by introducing a hand-clap between tossing and catching, or a one-handed catch for older kids.
Play in pairs or groups for a great, easy and fun activity.
Bean Bag Relay:
Get the children to stand in a line, one behind the other. Put a pile of beanbags in the front, and a bucket at the back. The child in front grabs a bean bag and passes it overhead to the child behind and so on, until the last child pops it in the bucket, and then runs to the front to repeat the relay.
The children will be using hand-eye coordination to accurately receive and pass the bean bag without dropping it, and bilateral coordination by using both hands together.
Improving General Endurance:
To improve physical endurance, making use of a bean bag can make a boring exercise seem more fun!
Put a pile of beanbags at one side of the playground and a bucket at the other, and have your children hop, run, jump or skip to take the bean bag to the bucket - they can either hold the beanbag, balance it on the head, or balance it on an outstretched arm.
Recommended for ages: 5 - 11 years