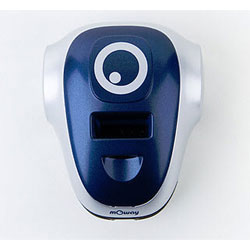 Manufacturer Code: MW122-337
Stock:
Product Discontinued
Product Information
(links open in new tab)
mOway Robot provides an introduction to the world of robotics and control software.
The deluxe kit contains two of the amazing little mOway robots, two RF modules and 1 RF USB stick to allow the two robots to communicate with each other or the PC wirelessly!
The combination of software and robot enables students to progress at different rates through activities designed to stretch, challenge and provide achievement.
Built-In Features
2x independent motors (with speed, time & distance control)
2x line tracking sensors (underneath)
4x infrared obstacle detection sensors
Light sensors
Sound sensor
3-axis Accelerometer
LED's - front white, top red, top green and rear brake red
Suitable for use in:
ICT
Technology
Programming
Make the mOway:
Travel in an enclosed area and avoid obstacles/walls
Follow a pre-set path (line)
Move towards and or track a light
Respond to a sound/object/collision