SMART Document Camera 450
Visualiser
Manufacturer Code: SDC-450
Stock:
Product Discontinued
Product Information
(links open in new tab)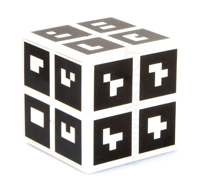 FREE Mixed Reality Cube included with every SMART SDC-450 Visualiser
Turn real objects into digital content with the SMART Document Camera 450. It's a great way to demonstrate, explore and understand – even when concepts are abstract or complex.
Capture images and create multimedia lessons
Create more engaging lesson content by easily capturing images, video and audio with the SMART Document Camera. For example, you can take a video of a science experiment with the document camera and save it to use for your next class and students can record demonstrations during presentations to study later.
Mixed Reality Tools included
Manipulate and explore 3D content from your SMART Notebook file by placing the Mixed Reality cube (included) under the SMART Document Camera lens. This provides students with a hands-on experience that engages students of all learning styles and helps them to understand complex, abstract and conceptual content.
Seamless integration
The SMART Document Camera is a perfect fit with other SMART products because you can control it straight from your SMART Notebook lesson – with just one touch. It's easy to show images on your SMART Board, LightRaise interactive projector or SMART Table interactive table.
Inspire students as they learn
When you can take an object – a leaf, for example – and display it for all to see, it's easier for students to understand higher-level concepts like photosynthesis. You have a visual, kinaesthetic way to teach and learn
All of our SMART products are Genuine, sourced directly from SMART Technologies.