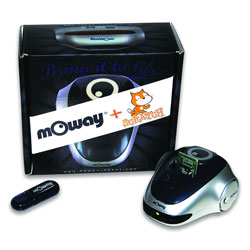 PrimaryICT No:

PR5575
Manufacturer Code:

MW07
Stock:
Product Discontinued
Product Information
The mOway Scratch Kit is a new kit that includes everything you need to control the mOway mini robot within the Scratch programming environment.
The mOway Scratch kit includes the RF connectivity (module & USB stick).
Scratch is visual object-oriented programming language developed by MIT as an introductory code tutor. Its layout makes you immediately think Primary, but it is also used at higher level for "101" courses at universities and secondary schools.
The combination of software and robot enables students to progress at different rates through activities designed to stretch, challenge and provide achievement.
Built-In Features
2x independent motors (with speed, time & distance control)
2x line tracking sensors (underneath)
4x infrared obstacle detection sensors
Light sensors
Sound sensor
3-axis Accelerometer
LED's - front white, top red, top green and rear brake red
Suitable for use in:
Computer Science
Technology
Code Clubs
Programming
Detailed Specifications
mOway is an educational tool, a complete learning solution that brings technology close to educational centres. On top of that, mOway allows students to discover what programming is with user-friendly and intuitive software that enables them to control the robot and its input and output devices, developing their own programs from the very beginning.
It's goal is to be a practical tool inside the world of education.
The major advantage is its fast learning curve. Students obtain results from the first lesson, generating a high level of motivation among them.
This robot helps to develop personal abilities as diverse as creativity, interest in further learning and teamwork.