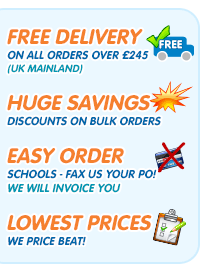 Product Highlight...
Popular Products...
PrimaryICT No:

PR5472
Manufacturer Code:

CD92094
Stock:
Hurry! Last 4 Available, Delivery usually 1-2 days
SRP: £12.99 -
save £1.04 (8%)
Product Information
Turn the tube upright to watch the jelly liquid ooze to the bottom. A great sensory resource to fascinate and captivate.
Covers the following areas of the EYFS & KS1 National Curriculum
EYFS Personal, Social and Emotional Development : Self-confidence & self-awareness, Managing feelings & behaviour
EYFS Communication & Language: Listening & attention, Speaking
EYFS Physical Development : Moving & handling
EYFS Mathematics: Shape, space & measure
EYFS Understanding the World : The World
EYFS Expressive Arts & Design: Exploring & using media & materials
KS1 Personal & Social Development
KS1 Science
Supports quality provision using ITERS and ECERS
ITERS-R: 15. Activities: Fine motor
ITERS-R: 17. Art
ITERS-R: 22. Activities: Nature/ Science
ECERS-R/E: Language & Reasoning, Activities, Science & Environment, Mathematics, Provisions for children with disabilities, Diversity
Specification
Size: 201 x 80mm.