4 Jumbo Tray Storage Unit
PrimaryICT No:

PR5810
Manufacturer Code:

MEQ04J
Stock:
Made to Order - Delivery usually 1-3 weeks

Product Information
4 Jumbo Tray Unit (2 columns of 2 slots)
Versatile mobile storage unit with bright and colourful trays.
Ideal for any Classroom, ICT Suite or School Office.
Easy wipe clean surfaces
PVC edging to help products against the rigours of daily use
Constructed using high quality and durable Beech melamine faced chipboard
Fitted with castors
You can choose any combination of the 17 Gratnells tray colours available
Manufactured in the UK
Delivered fully assembled for instant, hassle free use
Tray size is W312 x D427 x H300mm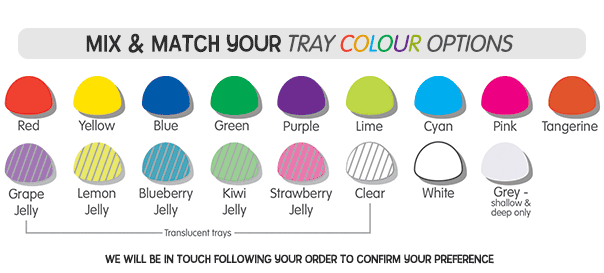 Dimensions
Height (mm)
Width (mm)
Depth (mm)
Trays
739
700
453
4 Jumbo Trays
739
1030
453
6 Jumbo Trays
1067
700
453
6 Jumbo Trays
739
1358
453
8 Jumbo Trays
1067
1030
453
9 Jumbo Trays
1067
1358
453
12 Jumbo Trays
Ordering Information
!
Delivery Restrictions - Home Customers
Sorry, but we are unable to accept orders for this item from home customers, or for delivery to a home address.
Please note, we are only able to deliver to a ground floor entrance. Before ordering, please ensure that your main access door is both wide and tall enough and that there are no steps or obstructions that could hinder delivery.
Manufacturer Warranty
5 Year Manufacturer Warranty
Full details (including terms) of manufacturer warranty are provided with the product or on manufacturer website.