This headphone splitter connects two sets of headphones to a standard 3.5mm mini-stereo jack, commonly found on PCs, Laptops, Hi-Fi Stereos, iPods, MP3 and CD players.
Perfect for allowing two pupils to share the audio if they are working together on the same computer!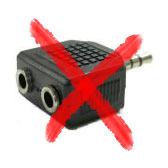 We recommend this version with a short 20cm cable - as it gives flexibility and won't strain your PC sockets - please avoid using the adaptors pictured on the right as we have found that they can break your PC headphone sockets when pupils are sharing and they pull on the wires.
Compatible with many of our other products, including:
Our headphones
Easi-Listener
Easi-Speak and Easi-Speak Pro Microphones
Our PCs, Laptops and Netbooks